4 Delicious Caravan BBQ Meal Ideas
Posted by:

PRIMA Team

Posted on: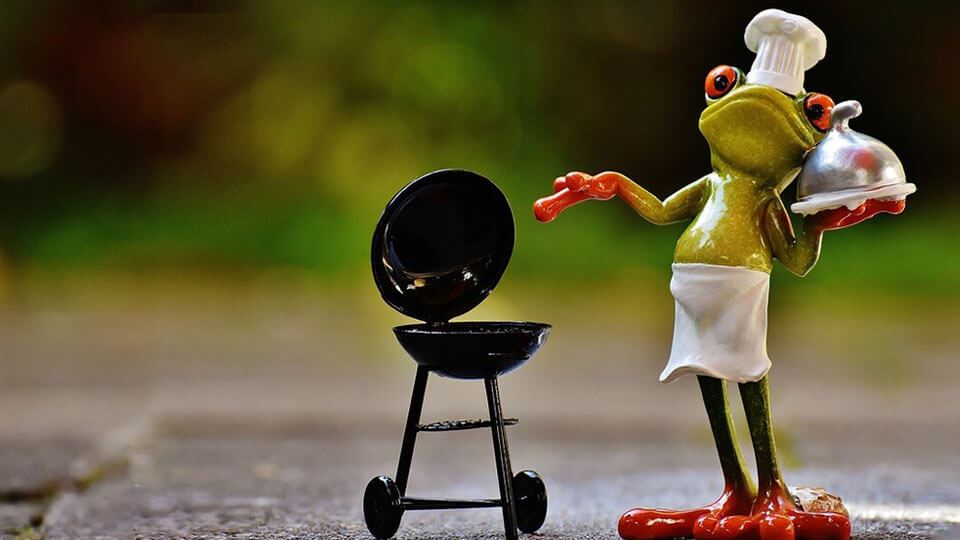 It's officially BBQ season. The time of the year where all outdoor cooking skills are put to the ultimate test. From a classic burger to a full three-course meal perfect for a dinner party, you can get super creative with when cooking with a BBQ.
Inspired by some of our lovely PRIMA customers, we have compiled a short list of four fun summer BBQ grilling ideas for some delicious meals to enjoy on your next caravan, motorhome or camping getaway.
Good food always equals a good time because everyone appreciates good food!
1. Rump Steak 
Kevin Piggott
Enjoy a lovely steak grilled just how you like it.  For a nice even cooked finish, it may be best to use sirloin instead of T-bone meat. Here Kevin makes the most of the handy Cadac Tapas Sets for BBQ to cook different foods at one time. 
'This is a really easy recipe that is perfect for when you've just come back from a long day full of excitement and exploring. For this, I grabbed some rump steak, prepped the meat with salt and freshly ground black pepper, and lay on the ridged BBQ pan for cooking. While the steak was cooking, I fancied adding some mushrooms and onions so I chopped them up and popped them into the Cadac Tapas Sets allowing the eggs to be cooked to perfection. Tapas sets are very handy pieces of equipment, great for cooking small bits!' - Kevin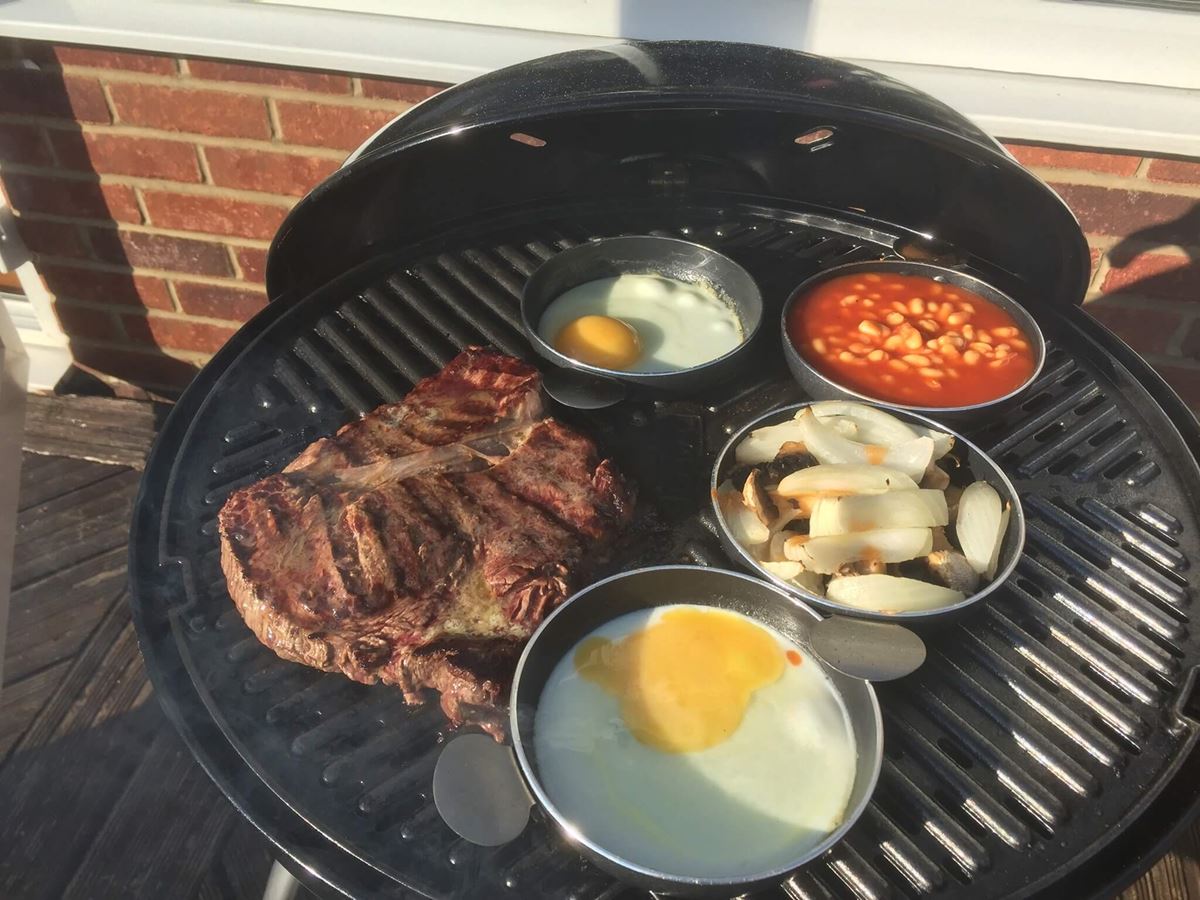 2. Kebab Meat Feast 
Julie Howett
Going back to basics with a big kebab meat feast. What a BBQ classic! This simple yet delicious meal can be finished off nicely with a paella or maybe a nice healthy salad. If you are using a Cadac, why not try using the Cadac Paella Pan to make the perfect paella dish.
Whether you are cutting and seasoning the meat, grilling or on salad duty, this is a great dish to get everyone involved. 
Follow Julies advice for a delicious chicken, sausage and steak kebab mix.
'We barbecued chilli oiled chicken, jalapenos and beef kebabs, chicken and chorizo kebabs. We also added sausages to the mix. We used our Cadac to make a lovely paella, which was great as everyone could chip in and help with preparing all the ingredients. Kebabs are nice and easy, just cut up your chicken and beef and put on skewers with whatever you like! You have the flexibility to use extras like peppers, courgettes and many other vegetables of your choice, so add as you desire!' - Julie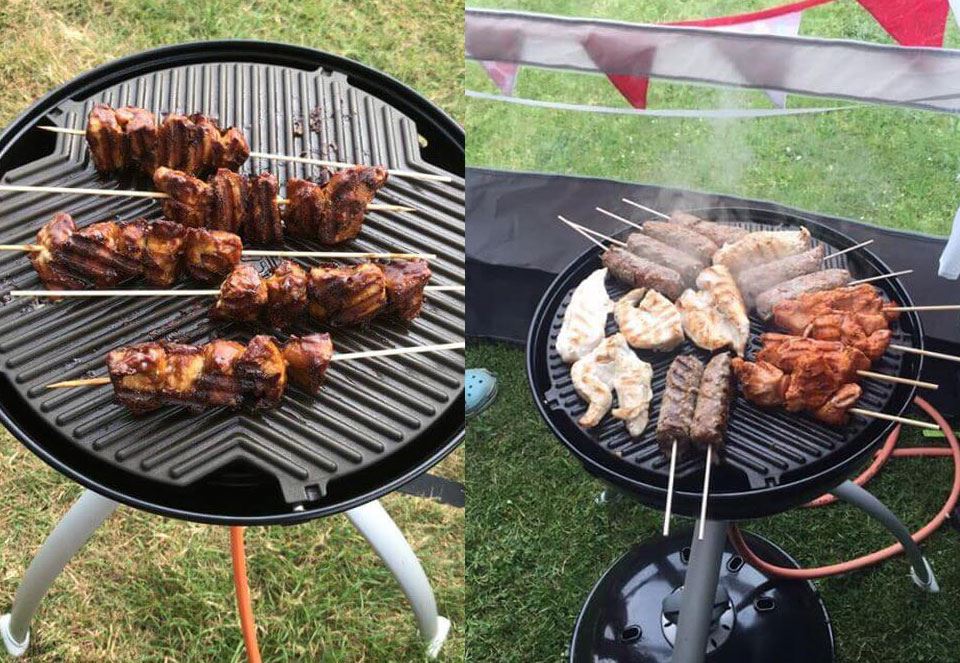 3. Delicious Roasted Lamb                                                                                  
Frederick Hepden
Grab some tables and chairs and gather around for this one. What is better for bringing people together than a classic roast? Try cooking Fredericks, roasted lamb seasoned with rosemary and garlic served with potatoes, buttered carrots, peas and gravy.
This is great for enjoying a delicious meal with a big family or a bunch of your closest friends. Making a whole roast using a BBQ, may sound a bit impossible or like too much trouble but trust us, it is very possible. Everyone can chip in to make different parts of the meal to make it quicker and more enjoyable.
'We love our social evenings with friends sitting in front of our caravan, joining tables, enjoying a BBQ, drinks and chat. When it comes to special occasions, bangers in buns just does not cut it so we like to posh it up a bit. In this occasion, four families joined to celebrate a very enjoyable rally in Dorset. Tables were laid for 12. The girls prepared the vegetables while the boys checked the Cordoba fridge was working by sampling a few ice-cold beers and making sure the tonics where chilling nicely.'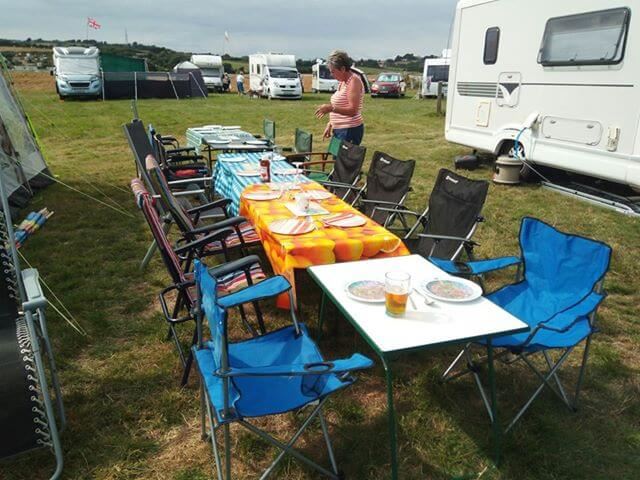 'I boned and tied the leg of lamb to make it easier to carve. We like ours with a little garlic poked into slits dotted about the joint with a few small sprigs of rosemary tucked under the string to make a moist joint and some tasty gravy. In a suitable size roasting bag, place sliced onions and a couple of whole carrots, these help raise the joint off the base of the roasting pan. Lay the joint on top and rub some lamb seasoning or stock cube over the skin to make an extra tasty gravy. If you don't have a trivet, you can use the leg bones. Cover and leave on low heat until cooked to your preference.
Around 30 minutes from the end of the cooking, remove the lamb from the roasting bag saving those juices to make a delicious gravy. Around 20 minutes from the end of cooking, politely ask the girls to start cooking the vegetables. Once cooked to you satisfaction remove from BBQ and rest aside, covered in foil for about 20 minutes. The wonderful smell would have enticed friends to be already seated with drinks in hand. Don't forget the Yorkshires! Frozen ones can be cooked directly over the BBQ but be careful or they will burn. We'd recommend the use of a meat thermometer to ensure meat is cooked to specification.'  -  Frederick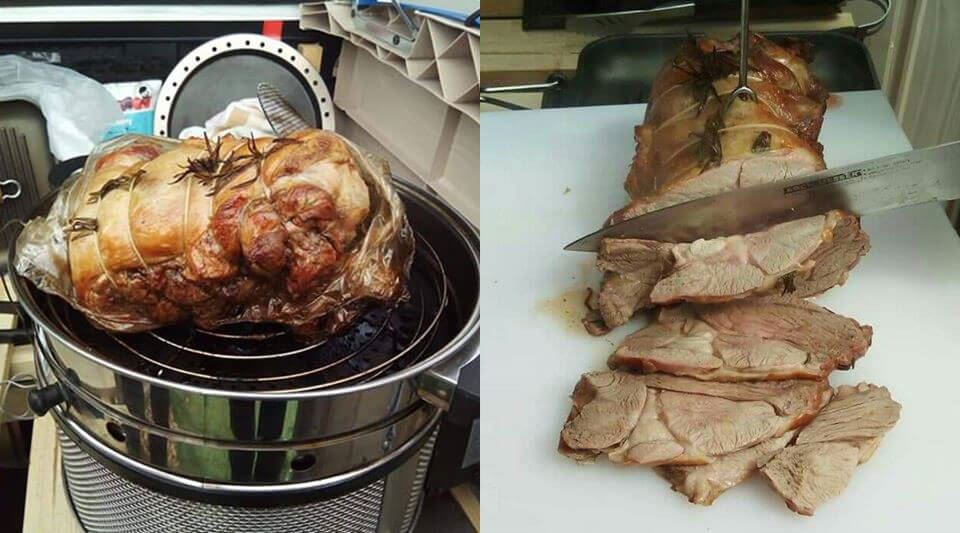 4. Sweet Fruity Dessert
Sandra Asbury
Finish off your BBQ meal with a fruity desert also made using a BBQ. Inspired during an exhibit, Sandra came across a simple but delightful dessert recipe to try on her BBQ and everyone loved it.  You simply throw in a few fruits onto a ridged BBQ plate for a few minutes and serve with your favourite ice cream. This sweet treat is great for everyone to enjoy after dinner. You can add any extra toppings, such as chocolate chips, as desired.  
'We griddle the fruit on a ridged BBQ plate and add frozen berries in a foil dish top so they can begin to defrost.  Griddle the fruit for about 5 minutes until it has started to brown and once the fruit is ready add to your plate and add some soft ice cream. You can use any soft ice cream. Mix it all together and if desired you can add chocolate drops, mini marshmallows and small pieces of meringue.  And in just a few minutes you have a delicious dessert ready and everybody loves it. It is also very easy to make on the BBQ, the photo's do not do its justice!' - Sandra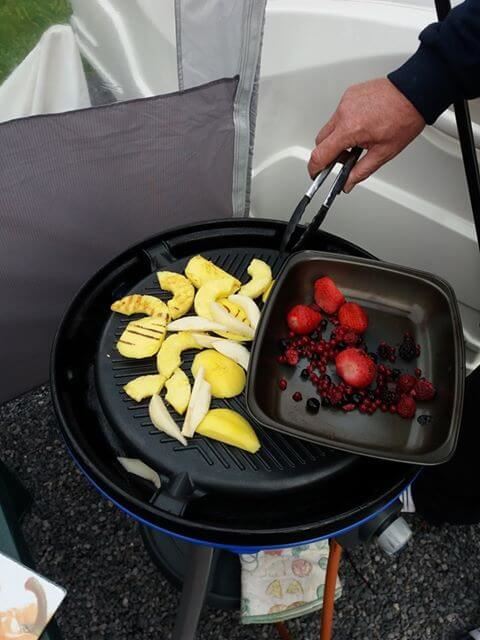 With summer holidays starting very soon, it is the perfect time to starting considering what meals you will be making and hopefully this has helped spark some fun cooking ideas for your next holiday!
Happy Touring!