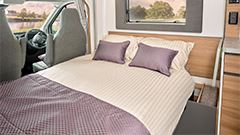 Bailey Motorhome Bedding Sets
Discover the official range of bespoke bedding sets available for your Bailey Motorhome - Adamo, Autograph III or Alliance SE.
Designed specifically to complement the luxury interior of your motorhome, these gorgeous high-quality Bailey bedding sets effortlessly create a blissful and relaxing atmosphere to help you get comfortable and unwind. Bailey bedding sets for caravans are also available!