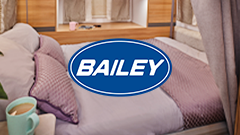 Bailey Motorhome Bedding Sets
If you are looking for the perfect motorhome bedding set for your Bailey Motorhome, look no further!
Discover the official range of bespoke Bailey motorhome bedding sets available - Adamo, Autograph III or Alliance SE.
Designed specifically to complement your luxury motorhome interior, this gorgeous high-quality Bailey motorhome bedding effortlessly creates a blissful and relaxing atmosphere to help you get comfortable and unwind. Bailey caravan bedding sets are also available!