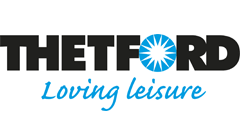 Thetford Toilet Fresh Up Sets
Thetford Fresh Up Sets are an economical way to refresh the cassette toilet in your caravan or motorhome. Achieve complete washroom hygiene with this easy-to-fit kit from Thetford that includes a new toilet seat and a new waste-holding tank specific to your toilet.
As an official Thetford partner, PRIMA Leisure stocks the full range of Thetford bathroom maintenance and refresh products available with secure online payment and rapid delivery.