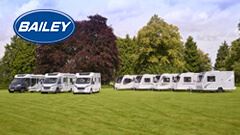 Bailey Accessories
Whether you have just bought a brand new Bailey Caravan or Motorhome or you've already taken it for a spin and made a list of things you need, these accessory pages are here to help you find the essential extras that will enhance your Bailey experience.
PRIMA Leisure offer a range of practical and useful products such as air awnings, wheel covers and towing covers and also a range of those extras that you wouldn't want to live without such as bespoke bedding sets, winter fridge vent covers and max upgrade kits.
Why not take a look at the range PRIMA has to offer, all designed to be the perfect match for your Bailey van and all made with your caravan or motorhome experience in mind.