The Best Towing Covers for Bailey Caravans
Posted by:

PRIMA Team

Posted on: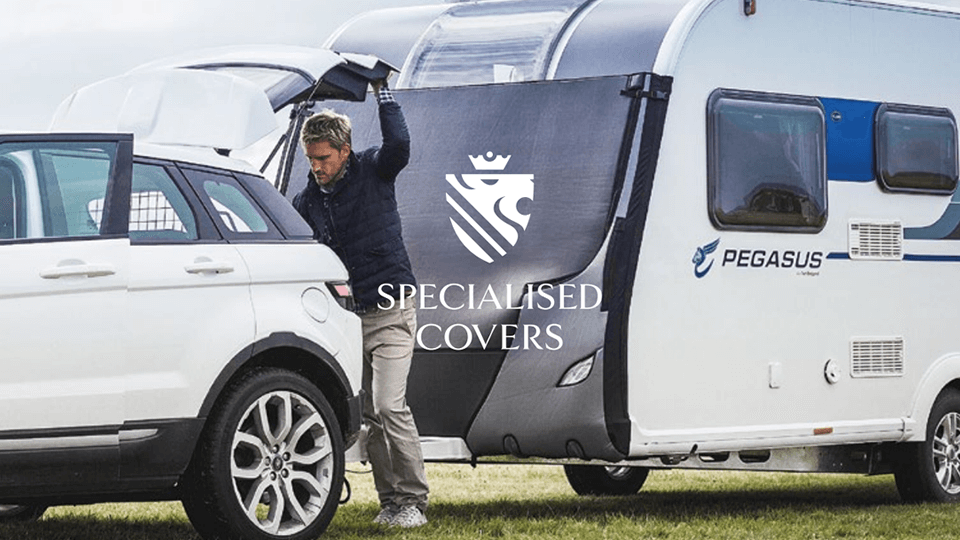 Do you need a towing cover?
When you're towing on the road, the front of your caravan bears the brunt. It's inevitable that your tow car will throw up stones for your front panels and windows to catch – and you'll soon find exhaust fume residues, dust and dead bugs messing up your paintwork.
As any caravan dealer will tell you, chips and stains will adversely affect the resale value of your van, but despite this, many owners are put off towing protection by inferior covers that are fiddly and time-consuming to fit. If you have a current or recent Bailey caravan, we have the best front towing covers available to provide the ultimate protection on tour.
Finding the best towing cover for your Bailey
Your Bailey should be fitted with the best, which is why we work with Specialised Covers who have been hand-cutting and stitching their high-end vehicle covers in Yorkshire for 35 years to satisfy the most demanding customers, from seasoned caravan tourers and doting vintage car owners to Formula One teams.
We've worked with the company to create our own, Bailey branded range of towing covers, which includes models tailored to fit all the current and recent Bailey caravans, including Pegasus, Pursuit, Phoenix, Discovery and Unicorn. 
Each Bailey model is measured thoroughly and a bespoke cover template is designed to ensure a snug fit. Specialised then hand-make each cover to order.
Front towing cover features to look out for
Ease of fitting - All Tow Pro models have one-piece construction and are incredibly easy to fit. Tow Pro models (excluding the Lite) are designed for specific Bailey caravans so they fit snugly into your existing awning channels - one person can fit the cover in about a minute. Patented elasticated wings provide additional grip either side and allow you to make fine adjustments, while the Quick Clips attach to your caravan's valence to prevent any debris reaching your paintwork from below. The Tow Pro fitting guide explains just how easy it is to cover your caravan safely and securely, with minimum fuss.
Road legality - Clear perspex eyes align perfectly with your Bailey caravan's front lights to ensure you're road legal.
Build quality - The products are handmade to the highest standards in Specialised Covers; Yorkshire factory and carry the NCC's coveted verification mark.
Specialist fabrics - Fabric is important - all Tow Pro models use high-quality fabrics that are100% waterproof, have a non-abrasive fleece lining and are made of durable, UV protected, breathable fabric that's well-padded and offers great protection, right up to the gutter line.
Towing Cover Range for Bailey Caravans
Find the right cover for you from Bailey towing cover range. Each model has different materials and access to windows / grab handles and every model is made to order to fit current and recent Bailey caravans: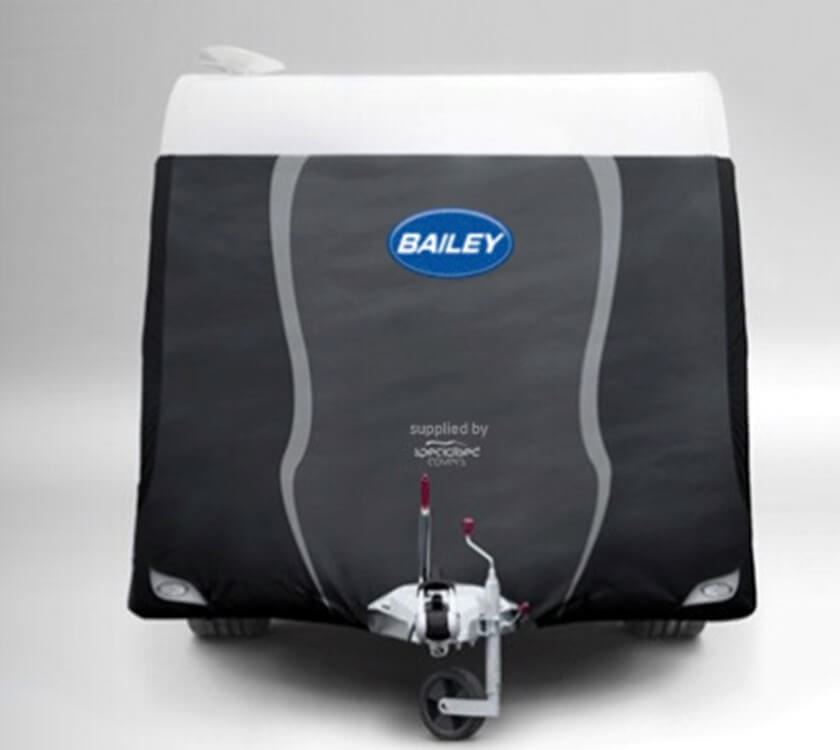 Tow Pro
✓ Waterproof and UV-resistant Stormshield fabric
✓ All-in-one construction
✓ Bailey logo
✓ Tailor-fit for Bailey caravan models
The original Tow Pro front towing cover is made from lightweight yet durable Stormsheild fabric. Each cover is hand-stiched for your Bailey caravan, making it incredibly easy to fit with a tailored finish.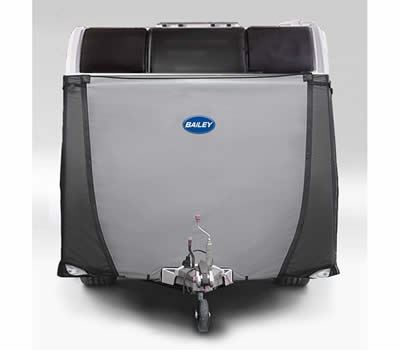 Tow Pro Plus
✓ Grab-handle and window access
✓ Waterproof, UV resistant Stormsheild fabric
✓ All-in-one construction
✓ Bailey logo
✓ Tailor-fit for Bailey caravan models
Made from the same lightweight yet durable materials as the Tow Pro, the Tow Pro Plus also has zips which can be pulled down to reveal the front windows, and grab-handle access.
This setup is ideal if you are touring with quick overnight stops - you can set up and position your caravan as normal without needing to remove and store the cover, which may become dirty or damp during your journey.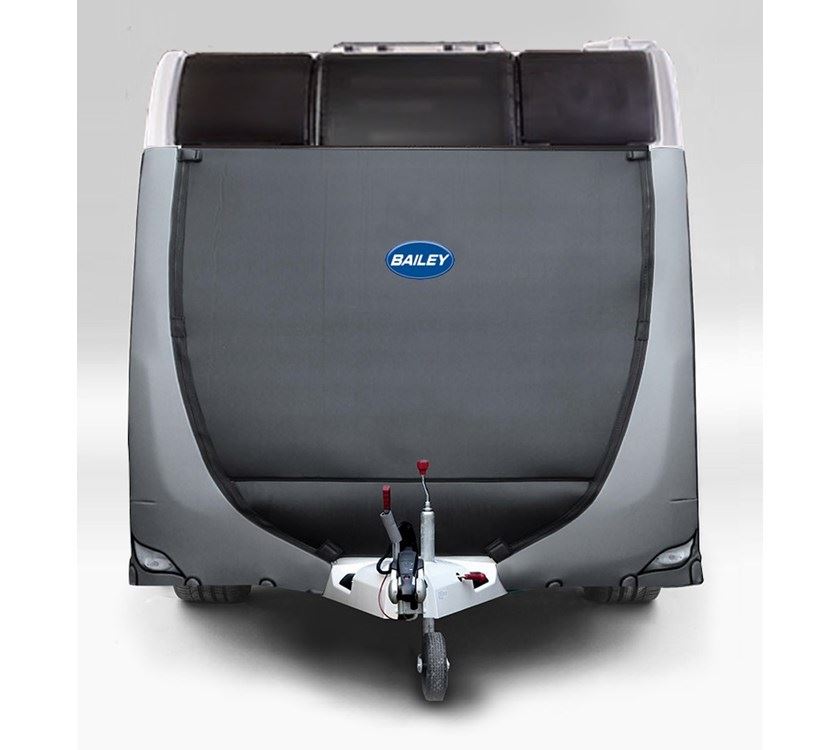 Tow Pro Elite
✓ Grab-handle and window access
✓ Waterproof and UV-resistant Stormshield + 8mm body armour
✓ All-in-one construction
✓ Bailey logo
✓ Tailor-fit for Bailey caravan models
If you want to take your protection up the maximum, the Tow Pro Elite is for the roughest roads and harshest conditions.
Hand-stitched from unique 8mm thick foam body armour material with soft fleece lining, the Tow Pro Elite also has a zippable fold-down window panel and access to your grab handles – so you leave the cover fitted on a stopover or short stay.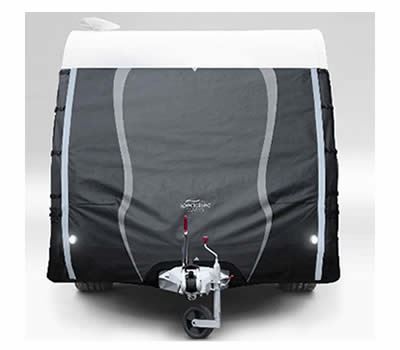 Tow Pro Lite Universal Cover
✓ Waterproof and UV-resistant Stormshield fabric
For older Bailey models, the Tow Pro Lite provides a tidy and smart-looking front cover solution.
The Tow Pro Lite features one-piece construction with a unique T-Fit system for quick and easy fitting; enabling you to use the awning channels for fastening and securing the cover.