Truma iNet System - Control your Comfort
Posted by:

PRIMA Team

Posted on: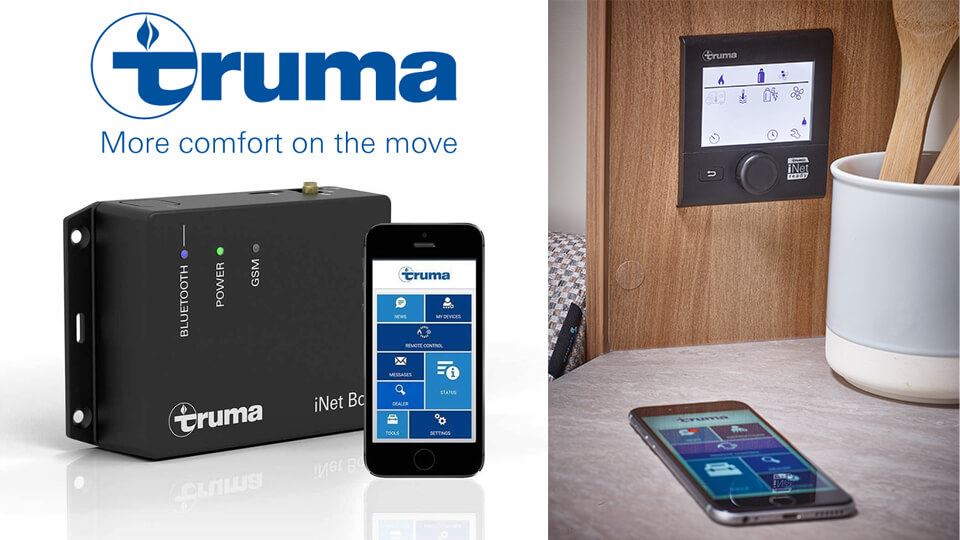 Why Choose a Truma iNet System?
Imagine you're on your holiday in your caravan or motorhome and you decide to go for a walk. All is well and then, in true British weather fashion, it starts to rain. Your campsite is a twenty minute walk back and you've only brought a thin coat! Looks like it's going to be a cold evening…
Then you remember that you can control your heating all the way out in the fields you're in. You take out your phone and send a message to your Truma iNet Box that you want the heating on for when you get back, and hot water ready for a shower. A quick text message reply comes back confirming that the boiler has been switched on. You might still be wet but at least you'll have a warm van waiting to welcome you back.
What is the Truma iNet Control System?
The Truma iNet System gives you complete control over your Truma or Alde heating and hot water system in your caravan or motorhome so that you can be ready for whatever the day throws at you. Through the use of Bluetooth or a SIM card, you can remotely monitor and control key functions from inside your outfit, on your site, or further away. Here is a rundown of what the iNet System can do for you in your caravan or motorhome.
Control air temperature
Whether you have been out on a cool winter walk or enjoying the beach on a scorching summer's day, you can make sure that your van is set to the perfect temperature when you get back. You can either set your van to be at a specific desired temperature or leave the iNet system to do it automatically using climate control.
If the temperature in your vehicle strays outside of the assigned temperature, you will receive an alert to your phone telling you.
Advance hot water
When you've been off adventuring, sometimes the one thing you need is a warm shower. With the Truma app, you can tell your iNet box to turn on the hot water so you know you can come home to a lovely relaxing shower.
Monitor your gas level
You can check your gas level remotely through iNet using the Truma Gas LevelControl - a small device sold separately that fits to your gas bottles magnetically. There's no need to worry about your gas level anymore and instead receive live updates and alerts to your phone. You can use the Truma app to check the fill level on your gas levels with results outlining exactly how much gas you have left and how many days it will last you for. You will also receive alerts direct to your phone if your gas level becomes too low so you are informed when you need a new bottle or a refill.
Control from a distance
The Truma iNet system can work using either Bluetooth or an installed SIM card.
The Bluetooth will work when you are within range of your iNet box – so when you're inside your van or on the campsite; perfect for popping the heating on in the morning when you feel like staying in bed for a lie-in!
The SIM card lets you use your Truma iNet box like it is a phone. You can send messages to it on your app from wherever you are and your iNet box will send a message back to you to confirm it has done what you asked. It will also send you messages and alerts when needed. This is perfect for controlling your systems from a distance.
You can also use your iNet system to keep your vehicle from winter frost damage in storage or on a seasonal pitch. If the temperature outside gets too cold, you can stop pipes freezing by instructing iNet to turn the heating on from your own home.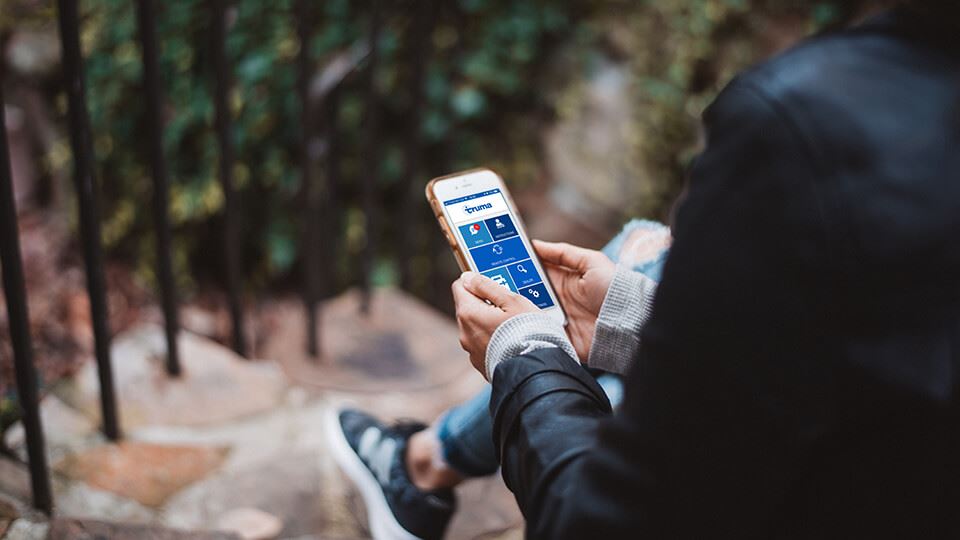 The Truma iNet App
The Truma App is free to download to your phone or tablet and has a range of very useful tools and links for you to use when touring. Here's a look at some of the extras you can so on this handy little application.
Remote Control: This is what you use to control all of the appliances you have linked up to your iNet box.
Instructions: Handy links to instruction manuals for all Truma appliances and products, past and present.
Tools:

Sun Alignment –

This great addition shows you exactly where the sun will rise, be at midday, and set so you can pitch your van in a way that gives you the best amount of sunlight through the day! Perfect for solar panel use and for a little sunbathing.

Levelling –

Do away with the spirit levels and use your phone instead. Input your vehicles measurements into the app and place your phone on a flat surface. It will then tell you where you need to place a levelling ramp and when your van is level.

News: Useful updates and latest Truma and Truma App news.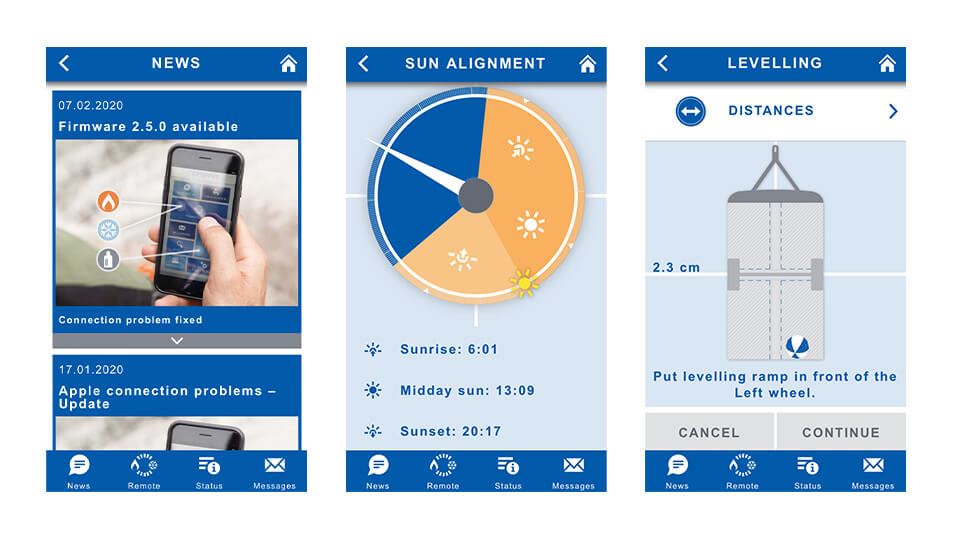 What appliances will link to Truma iNet?
The iNet box can connect to multiple devices around your caravan or motorhome. The first thing you will need in your van is the Truma CP Plus iNet Ready Control Panel or the Alde Control Panel 3020 HE. One of these panels may already be installed on your van but can be retrofitted if needed. You can then link the iNet box to your control panel before connecting your various appliances, all done using Bluetooth.
Truma Combi & VarioHeat Heating System
Truma Aventa & Saphir Air Conditioning System
Truma Gas LevelControl
Alde Compact 3020 HE Heating System
---
Is the iNet Control Box easy to set up?
The iNet Box
Bailey caravans and motorhomes with Truma blown air heating made after 2013 are fitted with the Truma iNet Control Panel as standard, so you don't have to install anything other than the iNet box itself.
To install the box, find a dry place that is shielded from direct sunlight and located near to the gas box (if using the LevelControl). A top locker on the side where the gas is stored would be ideal. Then install the box on a wall or furniture panel using four screws, making sure that it is perpendicular so that the internal antennae is facing the right way.
Connecting your Appliances
First, make sure that all of your appliances are connected to power and switched on. Then you will need to use a Truma iNet data cable to connect each appliance into the iNet box. There are two TIN1 slots and one TIN2 slot. This means that you can plug two different types of air conditioners in at the same time if needed.
If you have a Gas LevelControl, you will need to use Bluetooth to connect it to the iNet box. See below for advice on how to do that.
SIM Card
Contact a mobile network provider to get a SIM card. Your existing phone network provider with may be able to give you a discount but it can be worth looking around for the best deal! You need to ask them for a Mini-SIM (25 x 15 mm) that is on pay-as-you-go. Trying to find a SIM card that carries over any unused credit month to month would be useful too – then you don't have to worry about not using all your credit when you are away from your van. Then just pop this into the SIM card into the slot on the iNet box and you can text it like a phone!
(Make sure that your SIM card has its own number otherwise it won't be recognised by your phone.)
Bluetooth
To connect your iNet box to either your phone or Gas LevelControl via Bluetooth, you need to make sure that you have the app downloaded and that your phone's Bluetooth is on. Make sure you are standing close to the box and that your iNet box is ready to receive a Bluetooth signal (the instructions give you an idea of how to know this)
Then set up Bluetooth via the app and the big Bluetooth button on the top of the iNet box – it's hard to miss!
All the instructions are available online and on the app too.
Truma iNet System and other Truma products at PRIMA Leisure
PRIMA is an approved Truma distributor and supplier of OEM equipment for Bailey caravans and motorhome, where Truma and Alde heating systems are fitted as standard. Our knowledgeable team are available to help with compatibility and technical queries about the Truma iNet System and other Truma parts and fittings.
Give us a call on 0344 326 4000 or email info@primaleisure.com