Cadac Gas BBQs – The summer's easy gas barbeque connection guide!
Posted by:

PRIMA Team

Posted on: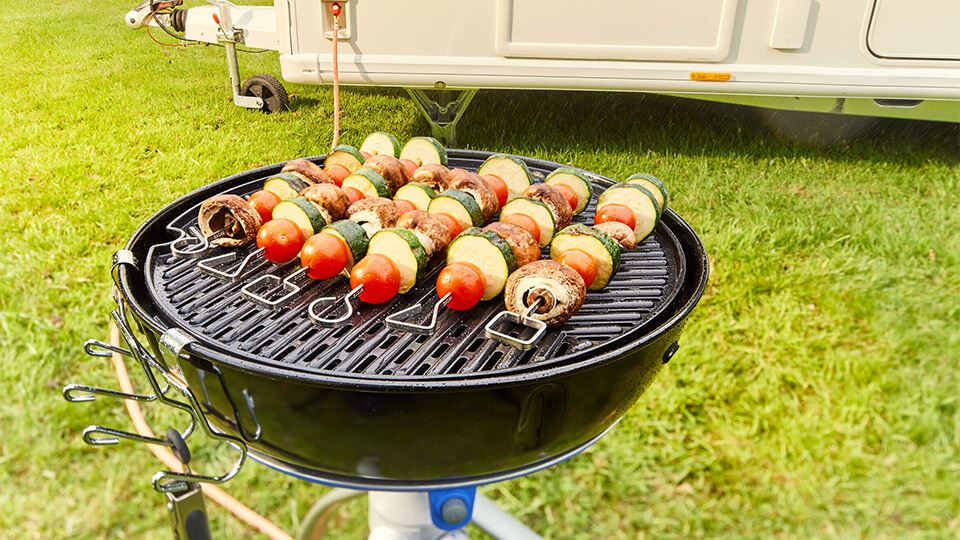 Celebrate the sunshine! Our gas BBQ connection guide is here to help you get cooking quickly and safely!
Whether you are new to gas BBQs or have years of experience under your belt, this guide explains how to connect your portable Cadac gas BBQ to different gas sources and outlines which connections are needed.
Cadac Camping BBQs
Designed for those who enjoy good food while on the move, Cadac's range of portable gas barbeques and Cadac BBQ accessories are ideal for any camping trip. Each model is lightweight, practical, extremely versatile, and can be hooked up to a range of gas sources to suit whichever set-up you have on your caravan or motorhome.
The freestanding models, Safari Chef 30 QR LP, Grillo Chef 40, and Carri Chef 50 BBQs are all Low Pressure (LP) barbeques. This means they will run directly off the external gas connection on your caravan or motorhome without the aid of an additional regulator to control the pressure and flow of gas.
The lightweight Safari Chef Compact 30 barbeque is a 'tabletop' version of the classic Safari Chef and utilises a single 227g butane gas cartridge (available separately from your gas supplier) to power it, making it truly portable.
Quick Release Connection
Connecting and disconnecting your barbeque to the gas supply can be quite fiddly and often requires tools to tighten or release couplings. This can damage the connector's thread and the gas hose, resulting in gaps and holes allowing the gas to escape.
To make connecting and disconnecting safe, quick, and hassle-free, Cadac has developed an ingenious quick-release push/pull system that ensures a dependable connection every time. The simple click-in / click-out system means no tools are needed to make a perfect airtight and leak-free gas connection.
The quick-release coupling is easily attached to the Cadac gas BBQ by unscrewing and removing the standard tailpiece supplied with the BBQ – note this is clockwise to loosen. The Quick Release male tailpiece is then screwed into place on the BBQ, permanently replacing the standard screw-on tailpiece.
Standard hoses are easily converted to the quick-release system simply by cutting off the existing screw-on female fitting and inserting the quick-release coupling in its place.
Once attached to BBQ and hose, the two pieces of the coupling will connect with a quick satisfying 'click' to signify the fitting is secure.

Connecting to: BBQ Point
Connecting to an external gas point on your caravan or motorhome is the simplest way of getting gas to your barbeque. If you have an external BBQ point, you can hook up your gas BBQ directly without needing a separate regulator as the pressure and flow of gas are controlled within the gas locker.
Cadac's BBQ Point Quick Release Gas Hose connects directly to Gemini gas fitting on your BBQ points (not Bullfinch). Gemini gas fittings are standard on Bailey caravans and motorhomes, and most other manufacturers' vehicles, since 2004.
Both ends of the hose are fitted with quick-release couplings, so your Cadac BBQ hooks up in seconds without needing clips or spanners to secure the connection. The hose is supplied with a Male tailpiece to screw into the bottom of the BBQ, ready to connect each time you cook.
The limitation of using the external BBQ point is the length of the hose will restrict how far away from your caravan you can barbeque. The longer three and five-metre hoses give you a wider area to choose from. 
Advantages
Limitations
Additional connections required

No additional regulator needed
Quick-release connection on both ends of the hose
No additional gas bottles required

Location is restricted by the length of the hose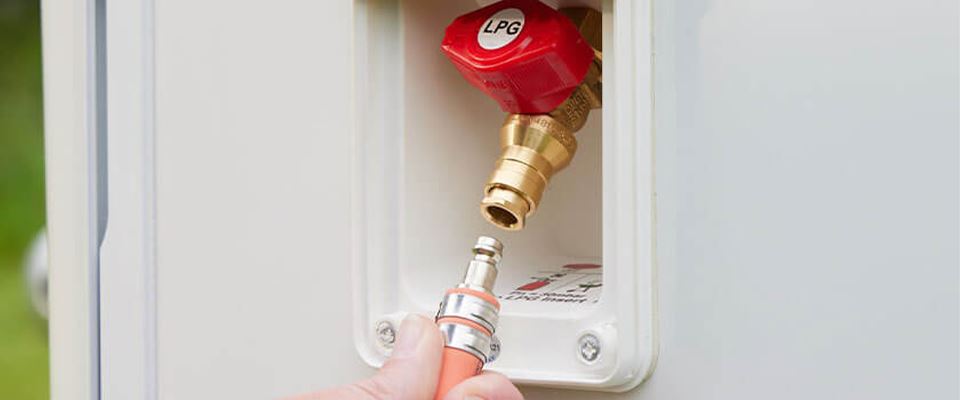 With your gas bottle powering pretty much everything in your caravan or motorhome, knowing how much gas you have before you set off has always been something of an art. To take the guesswork out of it and find out exactly how much fuel you have left, read our guide on How to Check Gas Levels. 
Connecting to: Refillable Gas Bottles
If you choose to move your dining area a little further away from your caravan or motorhome, you can connect to a refillable gas bottle. With this set-up, you should always attach the barbeque to the gas bottle with a regulator. The regulator performs a vital safety function, as it controls the pressure at which the gas flows from the bottle to the barbeque. It is important to ensure that you have the correct regulator fitted to your appliance for your chosen gas bottle.
A gas hose can be clamped directly to the standard tailpiece, but Cadac's Quick Release Tailpiece can be fitted to the Cadac gas BBQ and inserted into the gas hose to enable a safe and fast connection.
The downside to using this set up is the hefty weight the gas bottle brings with it (anywhere from 6kg up to 13kg) – so bear this in mind when choosing how you connect your barbecue.
* Cadac LP (Low Pressure) barbecues will work on Butane gas (28mb) – stored in blue bottles, and Propane gas (37mb) – stored in red bottles.
Advantages
Limitations
Additional connections required

BBQ setup can be moved to any location
Hose length can be adapted to meet needs

Additional gas bottles can be heavy and take up space
A regulator needs to be fitted to gas bottle

Gas hose (8mm diameter)

Regulator

Connecting to: Threaded disposable cartridges
If you have one of the freestanding low-pressure barbeques and want to go remote you can use a regulator to attach a small, portable gas canister. There are a number of options on how to do this.
The first option offers you a never-ending choice of dining location. Cadac's range of low-pressure camping barbeques can easily be adapted to run off these common high-pressure gas canisters with the use of Cadac's Threaded Cartridge Regulator Quick Release hose. This regulator steadily controls the flow of gas from the high-pressured cartridge and enables your low-pressure Cadac gas BBQ to run safely. The tailpiece fits EN417 ¼ inch BSP left hand threaded gas cartridges.
However, using disposable cartridges to fuel your barbeque does have its drawbacks. In particular, the relatively small capacity and limited power make them suitable only for smaller meals, not larger groups of people. 
The second option negates these drawbacks. Hooking up your Safari Chef 30 QR LP, Grillo Chef 40, or Carri Chef 50 to a Dual Power Pak with the quick-release Cadac Dual Power Pac Gas Cartridge Supply  removes the need for a bulky refillable gas cylinder.
The third option is the lightweight Safari Chef Compact 30 barbeque. The Safari Chef Compact uses a single 227g gas cartridge; so there's no need for regulators, adaptors, and heavy gas canisters – it is the ideal portable camping grill for going off-grid with.
The tailpiece fits EN417 ¼ inch BSP left hand threaded gas cartridges.
Advantages
Limitations
Additional connections required

Smaller gas cartridges take up less space and weight
Widens choice of BBQ location

Gas cartridges need to be changed frequently
May not provide as much power as a Low-Pressure Refillable gas bottle

In the balmy summer weather, a staggering 125 million barbecue parties are hosted, but people still get caught out by some basic pitfalls. Make sure you're not one of them, read our quick guide of barbeque dos and don'ts to avoid a BBQ disaster!
Whichever Cadac BBQ you choose, make sure the best safety practice is followed. Here's a few quick-fire tips so you enjoy your Cadac gas grill safely.
Replace the hose and your gas regulator every 5 years.

Always shut off the gas supply before your barbecue.

Use quick

-

release couplings for

a

fast and safe connection.

Always keep your gas supply upright.

Only use your gas barbecue outdoors.